If you'd like to contact me about a floral design you have in mind or about purchasing one of the designs you see here (or something like it), please provide your info below.
Thanks to all of you who attend my shows!

It is such fun to visit with you in the booth and then see you leave with a new addition to your home!
Check out the list of shows we're doing in 2019 on our
It's always Christmas in the DK Designs studio! I can indulge myself with traditional designs or colors, go a bit country with handmade burlap poinsettias, or think completely outside the box with wild, new colors and patterns. Trust me, if you can think it, I can make it!
This wreath has a modern, trendy look with animal print ribbons and touches of brown and turquoise.
This would look great on any door!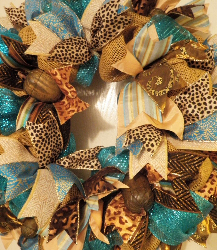 Mention the DKDesignsit.com website
and get a 10% discount on any item in the booth!